Archivo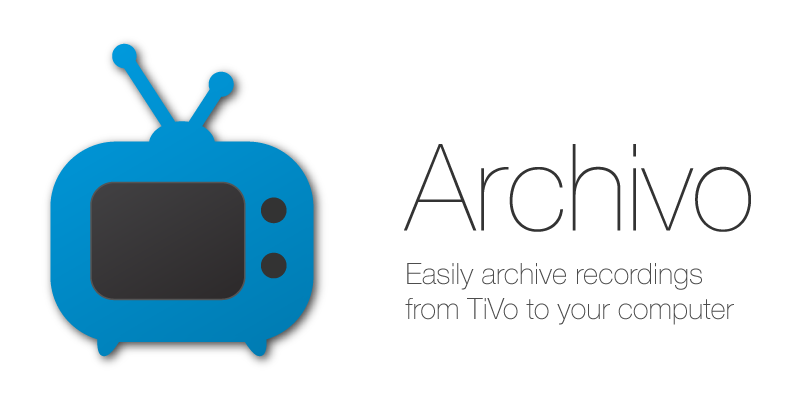 About Archivo
Archivo lets you transfer recordings from a TiVo to your computer. It will automatically find all of your TiVos, list the recordings available on each, and let you convert them to a variety of video types with the commercials removed. Archivo supports standard H.264 and H.265 videos, as well as videos optimized for iPhones, iPads, Android devices, Apple TVs, and tablet PCs. Archivo runs on both Windows and Mac OS X.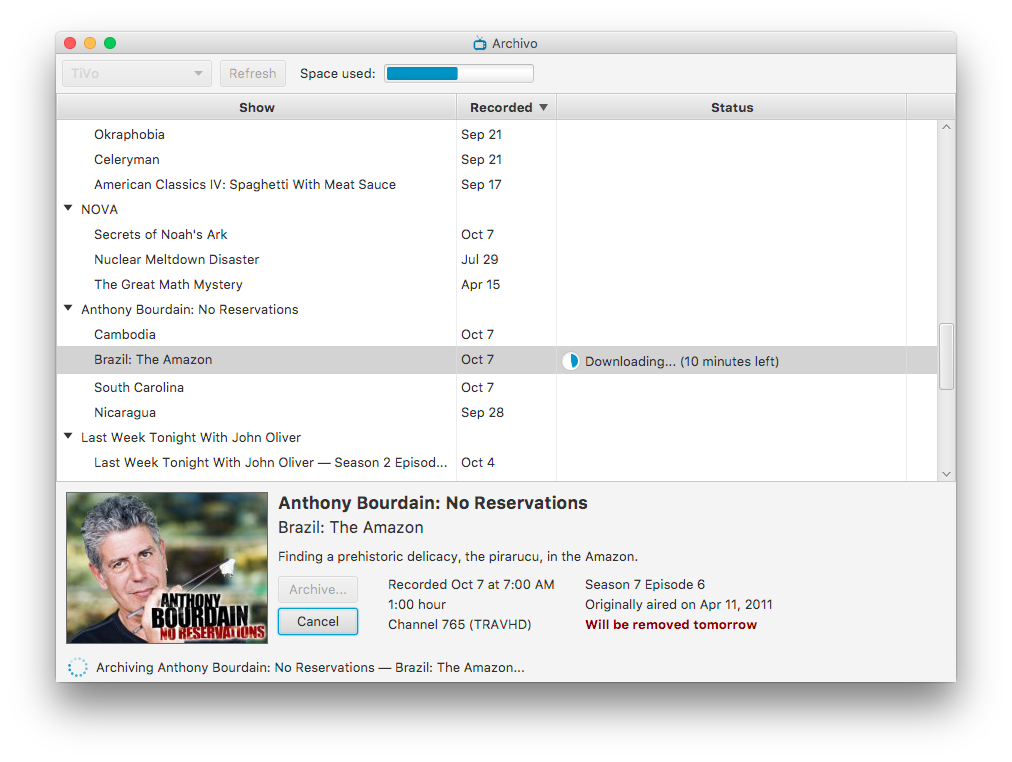 Getting started
Archivo is an easy-to-use desktop app for archiving TiVo recordings to your computer. Getting started takes just a few steps:
If you don't already have Java 8 or newer installed on your computer, you'll need to download and install it before installing Archivo.
Download Archivo using the links below.

For Windows users, double-click the Archivo installer and follow the prompts to complete the installation.
For Mac OS X users, open the Archivo package and drag the Archivo icon to your Applications folder.

Start up Archivo. Windows users will find an Archivo entry in their Start Menu; Mac OS X users can double-click the Archivo icon in the Applications folder.
The first time you run Archivo, you'll need to tell it about your TiVo's Media Access Key (MAK). You can find your MAK online at tivo.com or view it on your TV under TiVo → Settings & Messages → Account & System Info → Media Access Key.
Archivo will automatically find all of your TiVos and list the recordings available on them. To archive a recording, select it from the list and click Archive.
Here are some additional tips for getting the most out of Archivo:
You can change the type of video file that Archivo creates by changing the file type at the bottom of Save File window. Archivo defaults to saving files as MP4 videos, which should play back on most modern computers, phones, tablets, and streaming media devices.
Depending on the speed of your computer, archiving a 30-minute recording may take up to an hour. However, you can continue to select additional recordings for archiving while an archive is in progress. Once the first recording has been archived, the next recording in the queue will automatically begin to transfer.
By default, Archivo will save your recordings in the same resolution they were broadcast in (usually 1080i) with stereo sound. If you want to save them with surround sound, use the Apple TV 3 or Standard H.264 (High Profile) file type. You can also limit recordings to a lower resolution by clicking Edit → Preferences and adjusting the Limit video resolution setting.
Download
Requirements
Java 8u40 or higher
A TiVo Bolt, Roamio, or Premiere
For best performance, your computer should have at least a dual-core processor and 2 GB of memory
Plenty of disk space: archiving a one-hour HD recording may temporarily use up to 10 GB of disk space
Supported operating systems:

Microsoft Windows Vista and higher
Apple Mac OS X 10.7.3 and higher
Documentation
Coming soon...
Reporting problems
If you're having trouble with Archivo, please let us know about the problem. When you do, it will help to include the contents of the Archivo log, which you can view by clicking Help → View Log in Archivo.
Contribute
Archivo is Free Software, so everyone is welcome to view, modify, and redistribute its source code. The only requirement is that you must in turn allow everyone to view, modify, and redistribute your own modifications (learn more about this topic at http://www.gnu.org/licenses/quick-guide-gplv3.en.html).
If you'd like to get involved in Archivo's development, fork us on GitHub!
Acknowledgments
Development of this project was made substantially easier by the existence of the excellent KMTTG project. If you want more control over your TiVo than Archivo gives you, KMTTG is probably the tool you're looking for.
Archivo also makes use of the following Free Software projects:
Thanks to Freepik for providing the icon the Archivo logo is based upon.